Social Volunteer Opportunities
Volunteering for Social Events
Social Volunteer Opportuntities
Volunteering for social gatherings at the CCC is a great way to make new friends and spend time with old friends. Plus, they are a great way to log in volunteer hours. There is something for everyone and the whole family. Click the Sign-Up Genius icon below to volunteer today!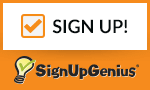 Special Events 
BBQ & Brew Contest –  This will be a fun way to bring our community together to eat delicious barbecue and drink great homebrewed beer.
CCC Pot Luck & New Member Welcome (tentatively scheduled for Sat. 6/4 at 6:30 p.m.) – A potluck put on by our members to welcome the new folks to the CCC. This party is a great time to meet the CCC board members, sign up for swim and summer activities, and learn about those lists that keep you up-to-date on the Camelot pool goings-on. BYOB. Click here to volunteer for this event. 
Crab Feast Dinner – Enjoy a date night with your loved one or mingle with friends as you sip a cold beer and dine on surf and turf fare. 
Gas N' Gas Chili Cook-Off – Bring a large crockpot of your best chili to share. Please bring your family by for a taste of delicious chili made by our wonderful neighbors, look at some FAST and beautiful vehicles while we're at it ~ and raise money for our pool.
Ice Cream Nights – Summer is ice cream time at the CCC, from ice cream scoops to root beer floats. 
Holiday Fun & Games – Celebrate Memorial Day, the 4th of July, and Labor Day with a picnic at the pool, Grill N' Chill Concessions, then partake of fun water activities! Games, Prizes, Splash Contest!
Wine & Cheese Reception – Come on out to relax, reconnect, and enjoy conversation with fellow members
Weekly and Monthly Happenings
Family Bingo Night – Get those good luck charms and daubers ready, Camelot Families!  
Guys Night – Get together with the guys. Enjoy a cold one while you play a game of cards or talk about your favorite sports.
Irish-Pub Style Trivia Nights – Fashioned after Irish-pub style trivia nights, members and their guests match wits (and memories!) in rounds of general knowledge, history, entertainment, sports, and much more!
Ladies Night – Hang out with friends, new and old! We might have a chocolate and wine tasting or enjoy margaritas while catching up.
Poolside Playdates – Pack a snack and visit the Baby Pool weekly to meet other parents with kids the same age. Some suggested themes include Paw Patrol, mermaids, princesses, pirates, and sea animals. 
Special Interest Groups – Calling all readers, Dungeons & Dragons, Pokemon, board gamers, remote control cars, etc.